James Pittam
Military Circuit Training in Penrith
Are you looking for a new fitness challenge, or something that little bit different? Do you want to become a leaner, fitter, stronger, more agile version of yourself?
Military circuits were originally designed for elite Royal Marines Commandos to maintain their physique and fitness levels whilst serving anywhere in the world. At James Pittam, we've taken this idea and transformed it into a challenging, fun military workout suitable for all fitness levels.
We combine bodyweight training and running drills (which aren't as scary as they sound!) to give you a full body workout to help target your cardiovascular system, build strength and improve levels of endurance. You'll work pretty much every muscle group in your body and have fun at the same time.
Our military circuit training is designed to push everyone, regardless of fitness levels or the type of exercise you do now. If you're new to circuit workouts, don't worry – we can tailor our class to all abilities. It's not just for athletes – we find that lots of people return for the social side of the class too.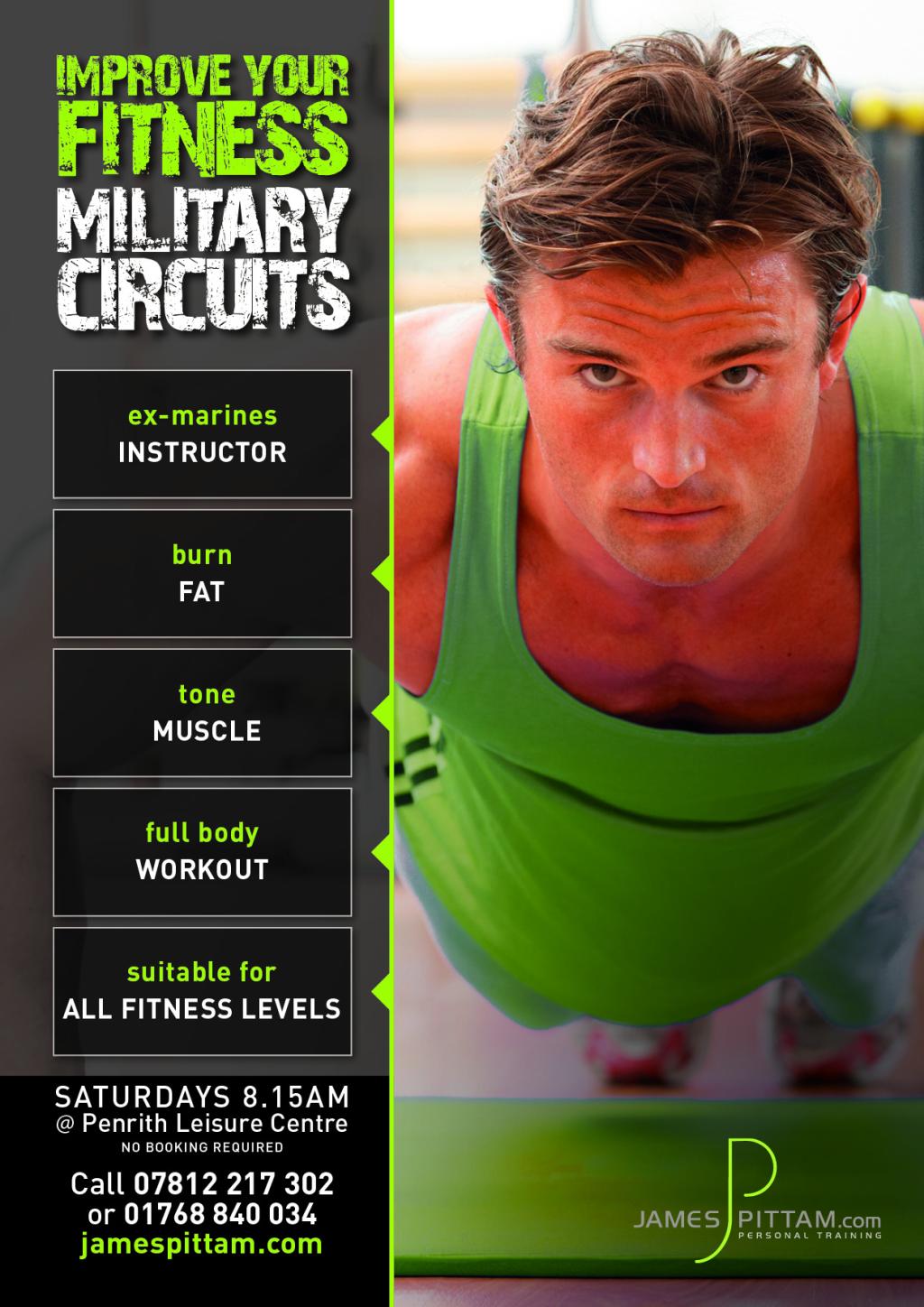 What makes Military Circuits at James Pittam so different?
Our classes are led by James himself – an ex Royal Marines Commando. He knows first hand the type of training it takes to keep the military fighting fit and has specially developed this class to bring that style of training to Penrith.
No two classes are ever alike, and while the workout is intense, it's also exhilarating and thoroughly enjoyable. It's been running for over 10 years now, and we have a lot of regular class members who return week on week.  
Our military circuits classes are also held indoors, so the weather never stops us putting on a unique, challenging session. It's proven to help tone muscles, improve aerobic fitness and aid weight loss/fat burning, so it's an effective all-round workout which we're proud to deliver.
When and where are the classes held? In the Penrith Leisure Centre sports hall, every Saturday morning. Registration is from 08:05, and the class gets started at 08:15.
How much do they cost? Military circuit classes are £5 per session, on a pay as you go basis (so there's no pressure – but we're confident you'll come back). We can take up to 60 people per class, so there's no need to book.
Do I have to be a member to come along? Not at all. Though we offer a range of services at James Pittam, including personal training, Military Circuits can be done on a pay as you go basis.
What if I'm new to exercise, or it's my first class? We'd love to see you there. Though this workout is designed to challenge you, it can be tailored to any fitness level, and a group class is a great way to meet new people. When you arrive, just let James know that it's your first class, and he'll talk you through everything.
Want to find out more? Contact the team today or come along on Saturday.