James Pittam
Circuit Training for Seniors
Enjoy circuit training for seniors in Penrith. Workout routines for older adults with low impact exercises to keep you strong & mobile without wear & tear!
The NHS suggests that many adults aged 65 or over spend an average of ten hours or more sitting or lying down, which makes that age range the most sedentary. As you start to get older, it's even more important to stay as active as possible. Doing regular exercise, for example, exercise classes, walking or swimming can help keep you strong, mobile and independent.
At James Pittam, we offer circuit training for seniors in Penrith– exercise with a difference. Designed specifically for the over fifties, our circuits involve gentle exercise with low impact, so it's suitable even if you're rehabilitating from an injury or you haven't exercised for a while.
What makes our senior circuits classes so special?
We've been running the senior circuits class since 2003, and we're proud that it's still as popular now as it was then! It's not just about keeping fit; exercise classes are a great way to meet new people and we find that lots of people come along for the social side as much as the fitness. 
The classes are so effective because they focus on a combination of flexibility and strength, giving you a complete body workout. We don't use any complicated equipment, and equipment and focus our senior workouts around using hand weights and exercise bands, so you could even try some of the exercises at home between sessions.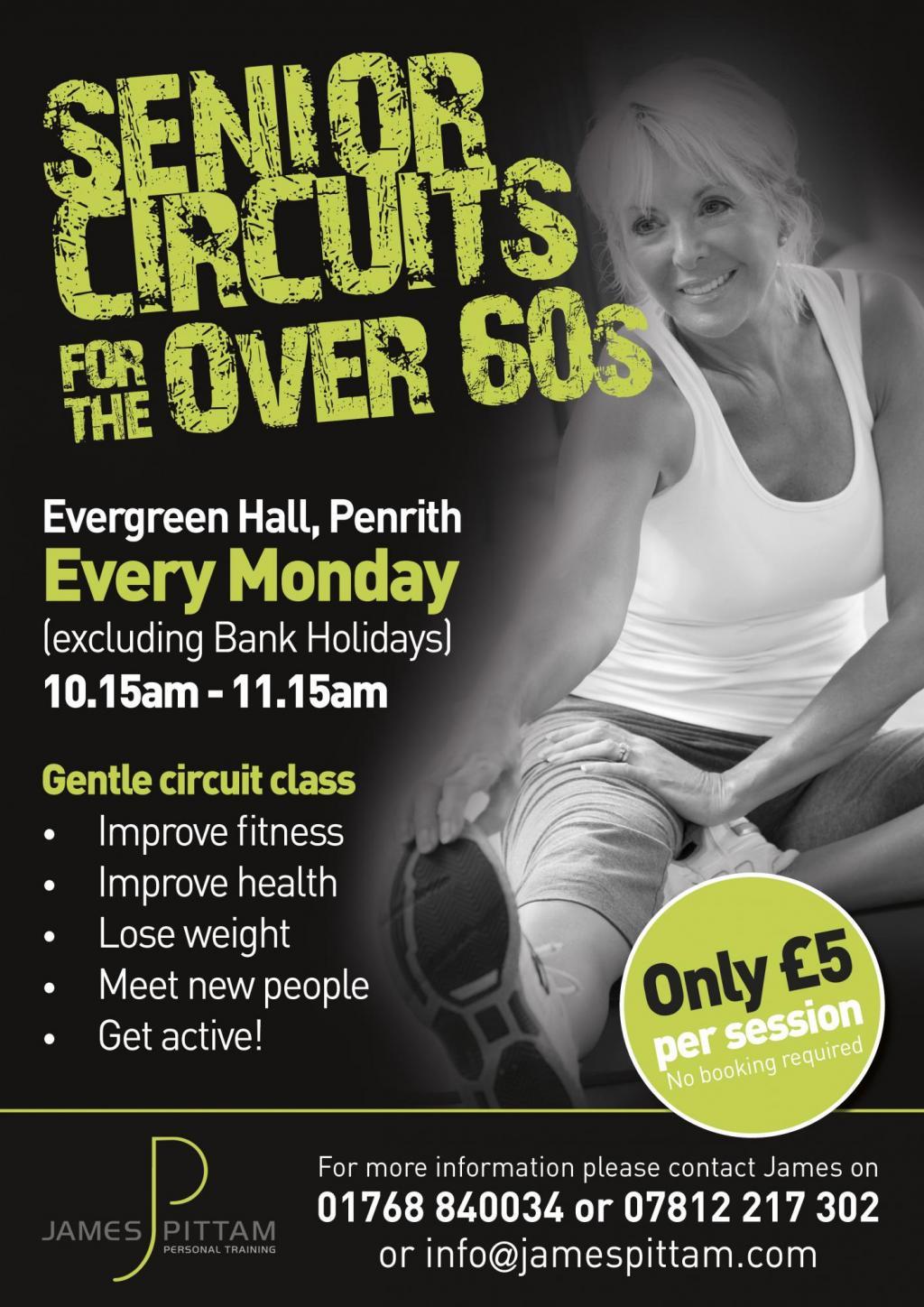 Because we offer so many services at James Pittam, we have a rounded approach to your wellbeing. We can arrange personal training for you, sports massage or our famous military fitness classes if you're feeling brave!
When are the classes? Mondays, 10:15 am
Where are they held? Penrith Evergreen Centre, Cumbria
How much do they cost? £6 per session, pay as you go (so no pressure – though we hope you return week after week!)
What should I wear? We advise you to wear suitable, supportive footwear and loose, comfortable clothing. You need to wear clothing you can move freely in, and shoes that you feel comfortable enough wearing for a full exercise class.
What if I haven't exercised for a while?
We know that starting a new class can be daunting, or even stepping into exercise might feel like a big step. But the first part is getting started!
Our senior workouts are completely tailored to the people taking part. You can go at your own pace and watch yourself gradually increase your fitness levels and grow stronger.
The team is there to support you, that's what makes these classes so special. If you have any worries or concerns, you only have to ask. The first time you come along, remember to introduce yourself to the instructor, who will talk you through everything. We're confident you'll be back the following week!  
Get in touch if you'd like to find out more or come along to the next session.